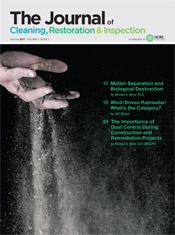 The Summer 2017 issue of
The Journal of Cleaning, Restoration & Inspection
is now available online. To access the digital edition, click here:
http://journal.iicrc.org/2017/IICRC_Sum17_V4I3/
It features the following peer-reviewed technical articles:
Matter Separation and Biological Destruction, by Michael A. Berry, Ph.D.
The author describes the physical and chemical processes involved in moving matter and removing pollutants from the built environment.
Wind-Driven Rainwater: What's the Category?, by Jeff Bishop
In this article, the author examines the controversy over category classification of wind-driven rain.
The Importance of Dust Control During Construction and Remediation Projects, by Michael A. Pinto, CSP, CMP, CFO
The author describes and defines dust both historically and as it has changed since the dawn of the "chemical age." Current dust management and containment strategies are examined as well.