Administrator
Joined

Oct 6, 2006
Messages

73,909
Location
Credits
Points

10,153
Name

Mike Pay-oh-tay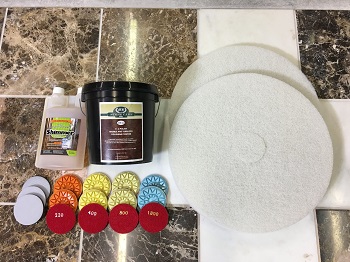 This is the most
complete stone restoration class
you will every take from your living room, phone, car, or on the job! This class is describes and demonstrates the refinishing of Consistent and Variegated Marble, Travertine, and Limestone (MTL) to a hone, polish, or seal, Granite restoration and filling, and restoration of all other natural stone surfaces.
How the class is delivered:
You learn using a world class management system on
any device from anywhere in the world.
Each user receives their own login and once you have completed the course you receive a certificate of completion and are able to access your course for a year. Renew each year for $99.
Contact us to discuss group rates. We set up your entire company and you can monitor their progress.
What is included:
Granite Counter Cleaning and Sealing Process
Granite Counter Refinishing and Polishing - Scratch Removal
Full Marble Counter Refinishing Class - Polish & Hone
Marble Floor Refinishing and Polishing
Consistent material using 5X
Variegated material using MB22
Includes Honing and Satin Finish
Crystalizer use
Spot Refinishing and blend to Satin Finish
We explain and demonstrate the location and placement of diamonds, machine movement, grit sequence, over-riding lippage (not removal), and the polishing methods necessary to achieve the best possible reflective clarity on either a consistent Crema Marfil or a variegated Emperador Brown. We even through a multi-colroed floor into the mix to provide as much value to the class as possible.
Future Plans:
Jump on now! when these modules are added the price will go up. Grandfather yourself in now!
Future updates will include
Granite crack repair including both rusted rod removal and grind in place
Granite seam grind and polish including redress with adhesive filler
Filling granite with CA glue both chips and seams
Textured stone shower cleaning - Slate and other material
Textured stone floor cleaning - Slate and Flagstone
Truckmount cleaning of travertine floor - Using Klenzstone
We will be adding a more attractive consistent MTL module in the future that will allow us to demonstrate the service on a larger area.
We will be expanding our polishing section. Right now we have 5X, MB22, Crystallizer, and Polypads. Though these are staples, there are several other powders that can add value to your business.
A well executed lippage removal demonstration. These jobs are not as profitable as others but they do come up and you will need the knowledge.
Your Instructors:
This class was designed, implemented, edited by
Ted McFadden
and
Josh Huseby
; part of the team that recently completed writing the first industry standard for the Marble Institute of America. These modules are narrated by
Josh Huseby
, an industry professional with many years of expertise.
Ted McFadden
is one of the lead instructors at the popular Easy Stone Care class in Southern California with Cameron DeMille. While there is no substitute for the kind of instruction that you receive at the Easy Stone Care class,
Stone Care Edu
was designed to allow those who can't take the time to come to the class to learn from anywhere in the world.
BUY IN TODAY! THIS PRICE WILL NOT LAST. AS WE FILL OUT THE EXPANSION, THE PRICE WILL GO UP.
Individual modules are also available. Click here to view the catalog of courses.

Supportive Member
Joined

Jun 29, 2015
Messages

5,346
Location
Credits
Points

1,697
Name

Stephen
Having been lucky enough to attend class a year and a half ago, I think these lessons would be well worth taking. Ted and Cameron have a gift for communicating essential details. Hold the tools the way they do, do it the way they say and watch that beautiful stone come to life.